News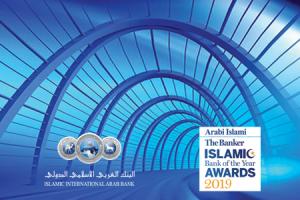 The Bankers Magazine awarded Arabi Islami Bank the best Islamic Bank award in Jordan for the year 2019
Islamic International Arab Bank (IIAB) has scooped a competitive Jordan country award as a result of its impressive set of results and its commitment to financial inclusion. In 2018, IIAB registered an 11% increase to its net profits, while total assets and Tier 1 capital grew by 9.6% and 11%, respectively. The bank's return on equity, meanwhile, hit an impressive 16.4% by the end of 2018, while its cost-to-income ratio was 41.6% and non-performing loans were at 1.9%. Taken together, this was a strong performance in an economy that has been ticking along at a sub-optimal pace for the past few years.
IIAB's success is in part a product of the bank's ability to tailor its customer offerings to the demands of the local market. The success of its Arabi Islamic Installment credit card is a case in point. Launched in 2013, the card is built around a revolving credit limit based on the concept of 'qard hassan', which is an interest-free loan. Under this structure IIAB customers can pay off the card's utilised limit through monthly instalments without incurring any additional fees or commissions. This was the first sharia-compliant revolving credit card to be introduced in Jordan and by 2018 IIAB claims that the card reached its target maturity level in terms of customer take up.
The bank also boasts impressive financial inclusion credentials when it comes to serving low-income groups and micro, small and medium-sized enterprises. In particular, IIAB offers 0% financing to support individuals' hajj, umrah and udhiah requirements. For start-ups and small and medium-sized enterprises, the bank also provides soft financing options coupled with transparent terms and conditions to offer attractive funding packages for Jordan's business community.
Indeed, IIAB is working to develop additional products and services to cater to underserved groups in Jordan's economy. In this regard, the bank envisions a unique role for sharia-compliant financial institutions in supporting social and economic development in Jordan and beyond in pursuit of the global sustainable development goals.