IIAB Pay : Fast |Easy |Secure
IIAB Pay: Fast |Easy |Secure
Arabi Islami IIAB Pay is a modern contactless payment bundle that contains Wearables, E-sticker, and all Arabi Islami Contactless debit and credit cards.
Why IIAB Pay?
Let's think different and skip opening our wallets; pay smoothly using SmartBand and E-Sticker, or just simply tap our cards to complete your payments. 
Good to know!
Contactless payment reduces germs and viruses transmitted by others.
Contactless ATM withdrawals will not retain your card and are less exposed to hackers.
To stop this service, please call us immediately 24/7 at our toll-free number 080022224 or 065003300  
IIAB Pay features:
Fast POS and ATM transactions
Easy to use
Secured by modern technologies
  Wearables features:
You can get a Smart band or E-Sticker for free*
Renewal at no cost
Fast POS payment without the PIN
ATM withdrawal with the PIN (through NFC supported ATM only)
Available for kids and Teens*
Stop service 24/7 

            NFC contactless symbol
*to get another one, or in case of loss or damage, fees and commissions will be applied
** Only for accounts that under guardian of the father
Smart Band features
Your choice of band type ( wrist adaptive, or adjustable)
A variety of colors for both genders
Two sizes for kids and adults  
Suitable for all conditions, swimming, and sports
The available colours:

E-Sticker
Your choice to put it anywhere (on phone-back, wallet, bag…..)
Hard to be removed after sticking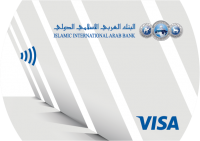 click here to view the fees and commissions ( arabic version only )
To stop this service, please call us immediately 24/7 at our toll-free number 080022224 or 065003300