News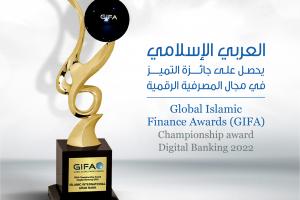 Arabi Islami awarded for Digital Banking Excellence
Islamic International Arab Bank plc (Arabi Islami), has won the GIFA Championship Award-Digital Banking 2022. The winners were announced during the annual GIFA award ceremony in Djibouti under the patronage of the president of Djibouti and the attendance of leaders, prime ministers, diplomatists, and Islamic financial institutions representatives in Africa and the world.
As the GIFA Awards press release, the awards committee selection of Arabi Islami for the GIFA Championship Award- Digital banking 2022, was based on the bank's achievements in Digital-Banking, and the ambitious digital transformation plan.
At this occasion, Mr. Iyad Asali, the general manager of Arabi Islami, expressed his pride in that recognition as one of the digital transformation achievements.